the sectional versus sofa debate…
After our basement flooded we lost everything down there. We were able to salvage some photo albums and our Christmas ornaments, which were really the only things I was concerned about. Some sentimental toys were lost but everything else is just stuff that either won't be missed or can easily be replaced.
One item we really need to replace is the sofa. While work is still ongoing down there I've started shopping for some comfortable seating and find myself going back and forth between a sectional and a sofa.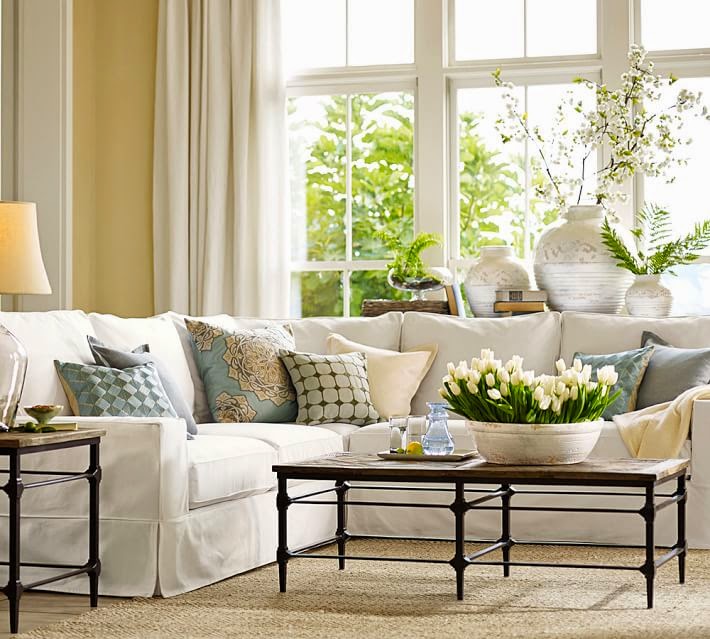 via Pottery Barn
Sectionals look so cozy and comfortable. We are a family of five so all of us could fit on one. Movie nights would not mean a mad dash to the basement to claim a seat! The only problem with sectionals is that they are huge and not very versatile. You pick your configuration based on your room and then you are stuck. I like moving things around so I'm not sure if this would be the best solution. I'm not even sure I could find one that would fit.
Sofa's are a safe option. I could add a chair or two, move the sofa around and not be boxed in with a configuration or setup. Since rearranging is my thing I could rearrange to my hearts' content. A polyester fabric is a must since this is the family room. Don't even get me started on the "to slipcover or not to slipcover" debate. One step at a time.
Have you recently furnished a family or living room. Did you go the sectional route or the sofa route. I'd love to hear some pro's and con's!