painted closet interior with Behr paint…
This week I officially started my work on the basement. As in the contractors are gone and now I get to do my part! First up on my LONG list is the toy closet. I had planned to purge the toy closet in September once my kids were back in school. The flooding in the basement took care of that job for me since we had to get rid of everything. If the items weren't damaged by water they were covered in mold. So I started this project off with an empty closet. Good for me, bad for my kids.
I had a look in mind for how I wanted this closet to turn out. I have not been able to find what is in my head online anywhere. I wanted a warm but dark blue color on the walls with lots of white storage in the form of bins and baskets and boxes. The closest I could find was this…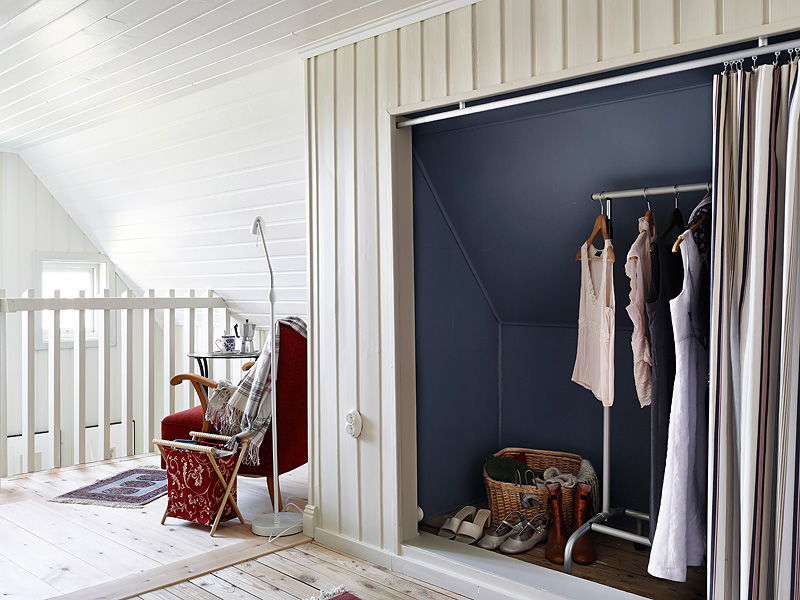 I love the warm dark blue which makes all the white pop. The shade of blue is pretty perfect too.
So I teamed up on my painted closet interior with Behr paint to find that perfect warm dark blue. I would be painting the inside of the closet this color so I didn't want a black hole! Here were my requirements…
1. not too cool
2. warm blue not purple
3. dark but not too dark
After some searching I found the perfect color. Velvet Rope is part of Behr's Marquee line.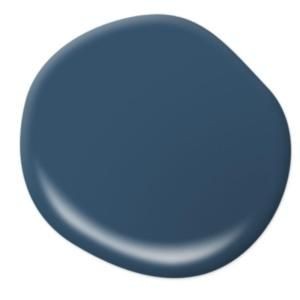 The Marquee line is a paint and primer in one which boasts one coat coverage. They weren't kidding. To tell you the truth I was a little skeptical about the one coat coverage, especially since I was painting over rough plaster. To save some money on the basement our contractor finished off the closet walls with a rough coat of plaster. At the time I had no problem with it since no one would see it. Now that I want to pretty up all the closet interiors I find myself wishing I had smooth walls. I could sand it all down but that is not on my "fun" list.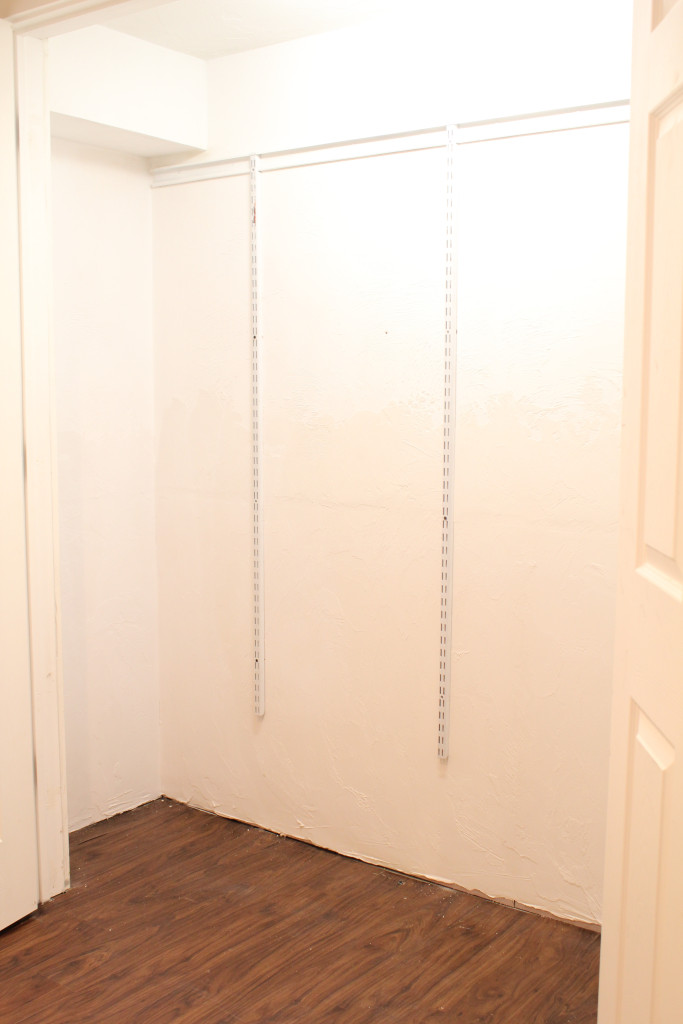 So paint over the plaster it is! I thought the paint would need more than one coat to cover it but one coat really worked! It is a stain resistant, easy to clean and very durable paint. The coverage was fantastic and made easy work of my toy closet.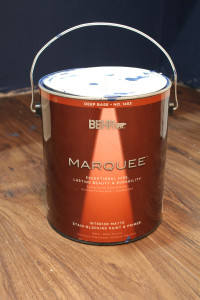 Below you can see the one slightly wet coat. I could quickly see that one coat was going to do it! Plus, the color was so spot on that two coats would have been much too dark anyways!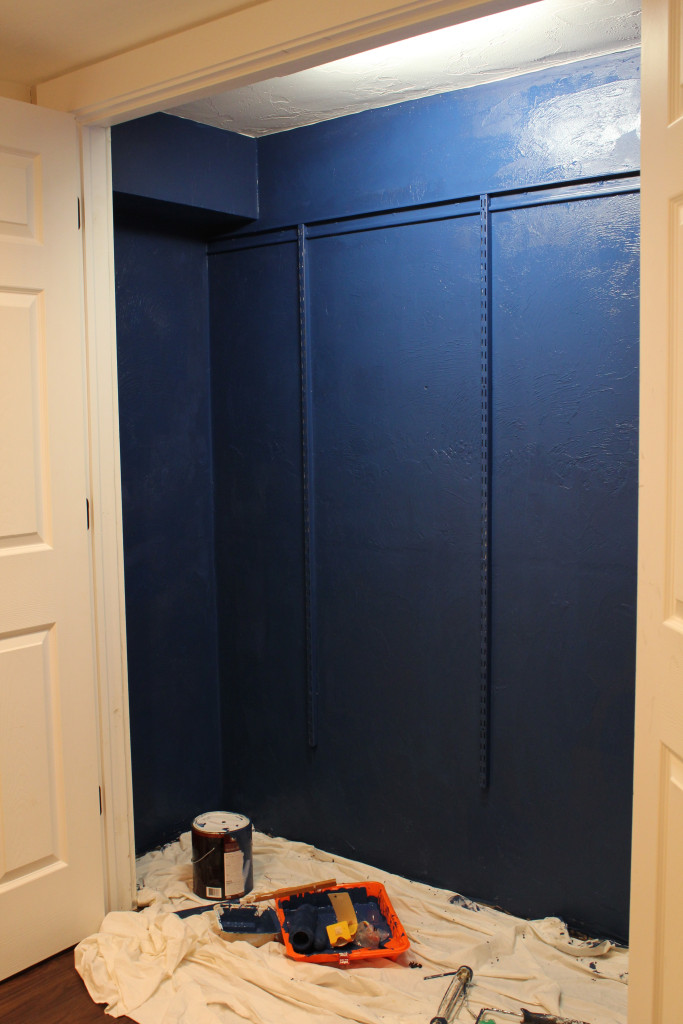 I even painted directly onto the metal brackets which would be holding up my shelves. Vertical white stripes would get in the way of my "dark blue closet with all white shelveing and storage " vision! Not to mention the large horizontal stripe at the top. The paint adhered to the metal with no issues at all.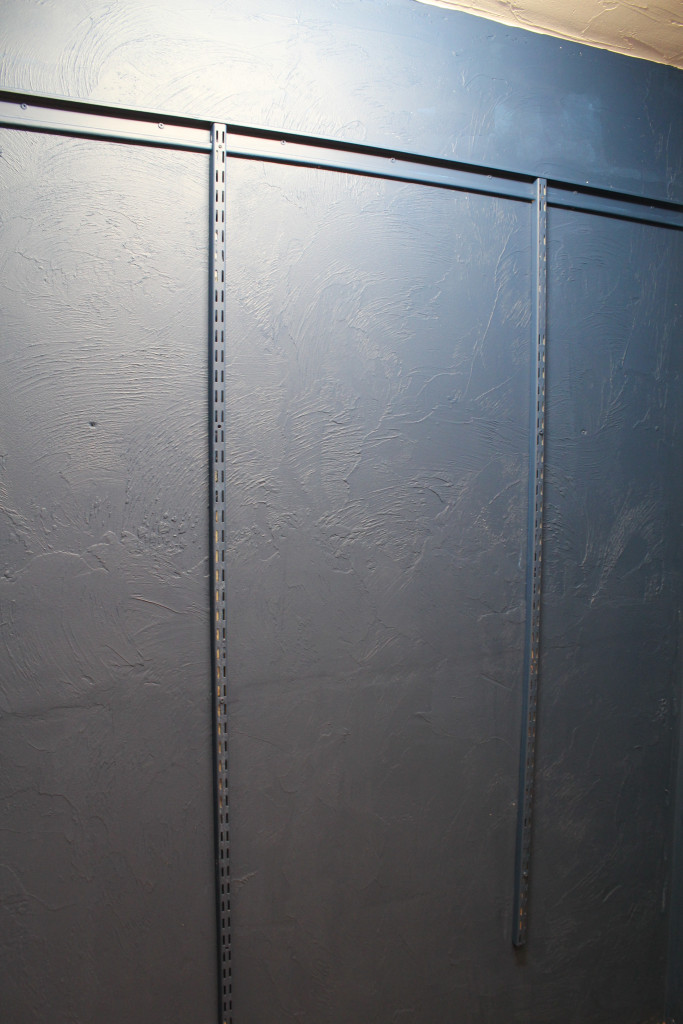 Once the paint was dry I added in the three melamine shelves. The white shelves pop out against the darker walls, toning down all the dark blue at the same time.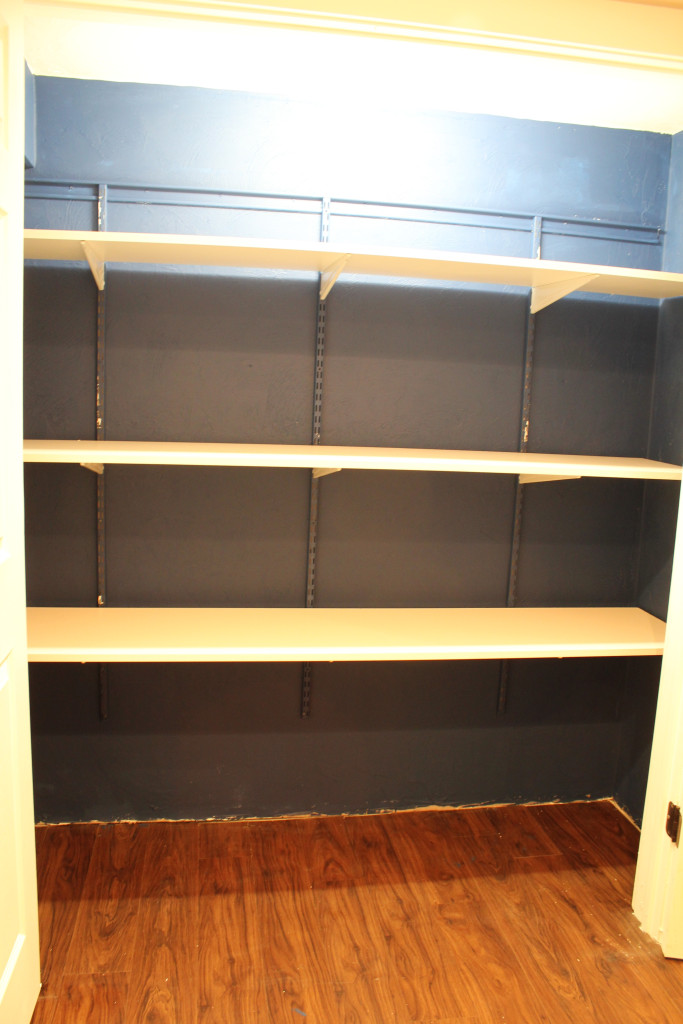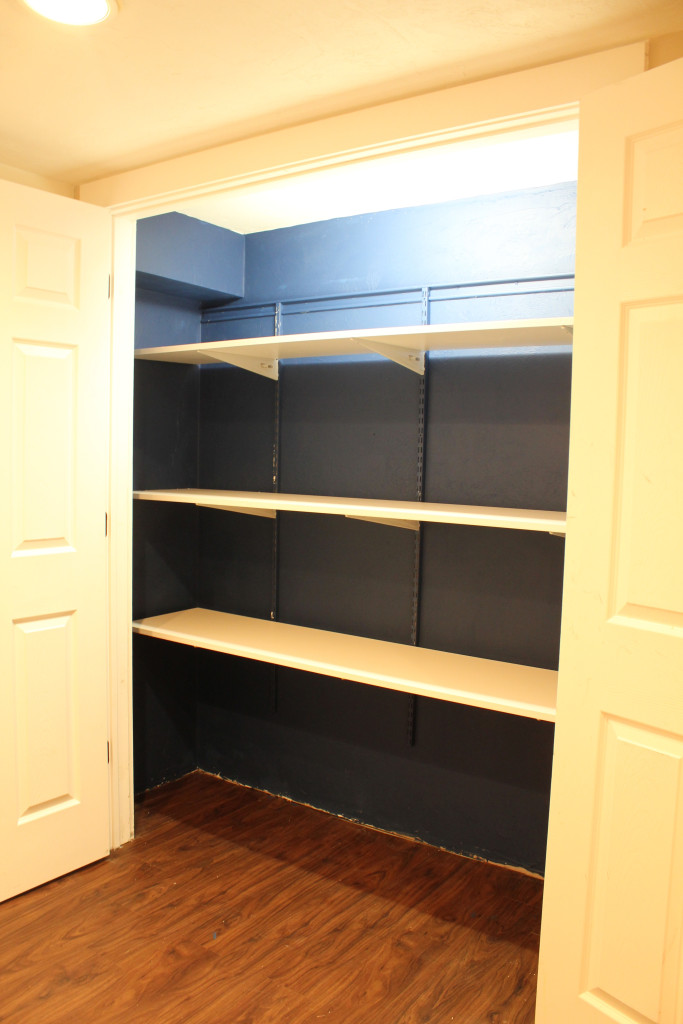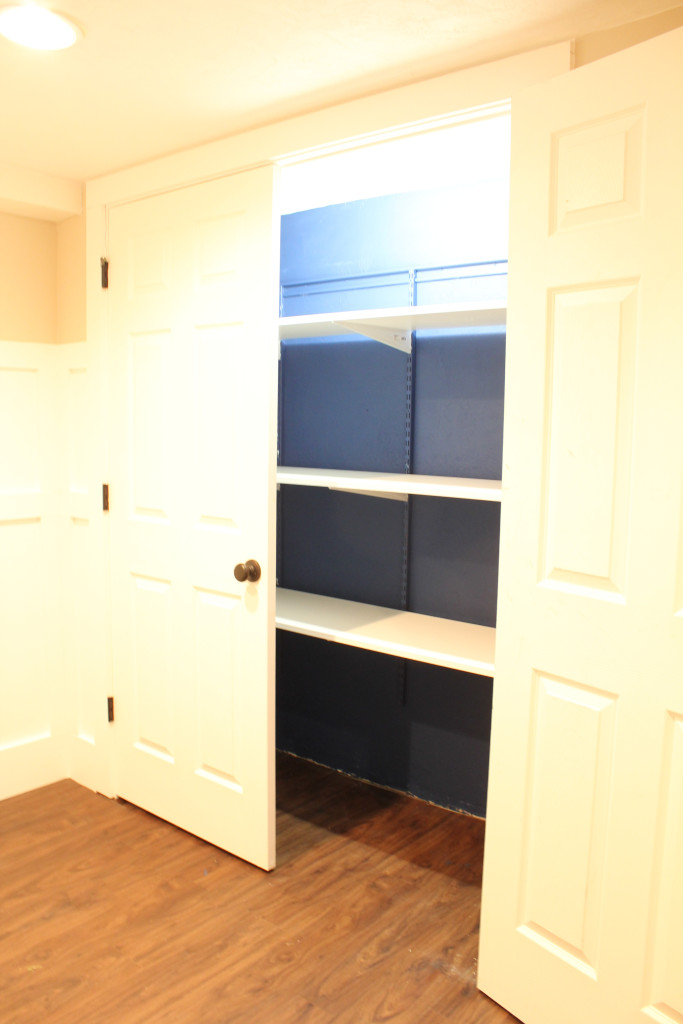 Some finishing touches need to be added in the form of baseboard molding. I'll be matching the molding height to the rest of the room. For now I added some of the storage I have so far to see the image I had in my head come to life…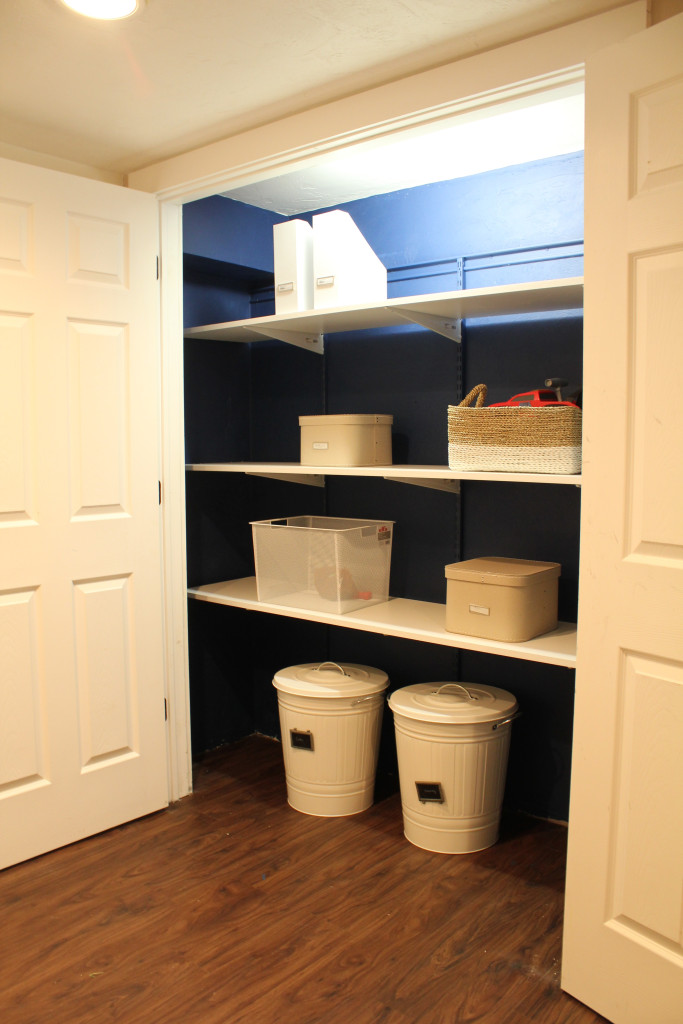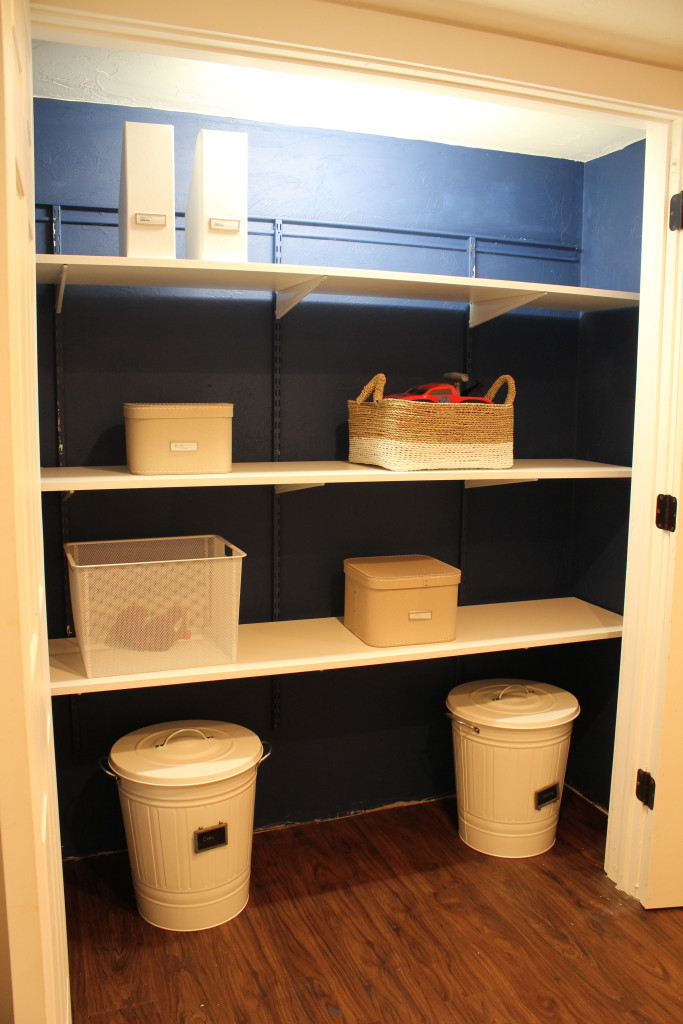 More to come as soon as it is done!
Thank you to Behr Paint for sponsoring this post!
This post was sponsored by Behr Paint. All opinions are my own.