master bedroom closet plans…
I came to the realization a while back that I work better with my own closet systems in various forms. This might mean that I gut a closet and made it an office or just used some simple storage solutions to use it to it's full potential.  I set my sights on my master bedroom closet for my next closet renovation. ClosetMaid® was kind enough to team up with me to get this closet under control. We started off by figuring out the dimensions necessary to maximize the storage in my closet.
The closet is a walk in that measures 62 inches deep and 65 inches wide. The door is in the center of the closet. As it is now I have rods and a shelf running along each side. I'll be keeping the same layout since the master bedroom closet is also the access to the attic. This means that there needs to be plenty of space for a ladder to fit in order to climb up. I would have loved to include more storage along the back wall but this would not work with the attic access. So we kept the galley style layout. On each side of the closet I will be installing a separate system. One side for my husband and one side for me! Instead of just one rod and shelf along each side we will now each have two smaller rods (for shirts, pants and skirts), a tower with shelves and one single rod for longer hanging items. Each rod has a shelf above it.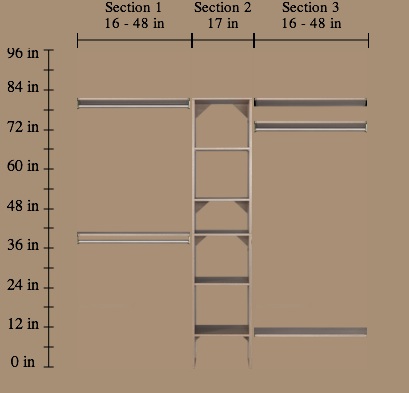 Using the Do-It-Yourself Designer available on the ClosetMaid® website I was able to come up with an image of what each side would look like. I entered in the measurements and chose the configuration. You even have the option of selecting the finish and color that you want to get a better idea of what your finished product will look like. I decided to go with the Impressions in Walnut.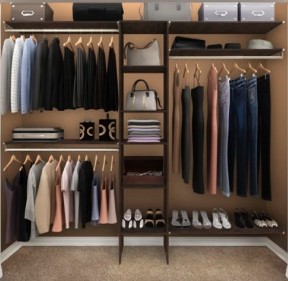 I love having an idea of what my end goal will look like. It also makes it easier to share those plans with the less creative minds in the house. I'm not pointing fingers or anything. Just picture the image above but on either side of you as you walk in the center of the closet. Now that the planning is done I'm off to gut another closet!